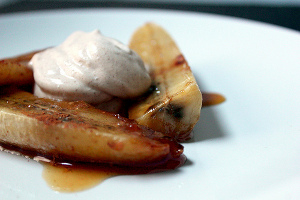 Ingredients (Yields 4 servings)
Roasted Bananas
4 ripe bananas
1/2 cup maple syrup
3 tablespoons brown sugar
1 tablespoon lemon juice (or dark rum)
1/2 teaspoon cinnamon
Cinnamon Whipped Cream
1 cup cream
1 teaspoon cinnamon
Method
Preheat oven to 375 degrees F.
Cut the bananas crosswise and then lengthwise. Coat them thoroughly with maple syrup, on all sides. Drizzle any remaining maple syrup on top. On a baking pan, lay the bananas cut side up and sprinkle on the brown sugar, lemon juice, and cinnamon.
Roast in the oven for 5 minutes. Watch carefully, in case the sugar begins to burn. Then, turn on the broiler. Broil the bananas until the sugar has melted and they are golden in color, about 2 minutes.
Top the bananas with any leftover juices from the baking pan, a dollop of cinnamon whipped cream, and serve hot!
In a medium bowl, mix together the cream and cinnamon until hard peaks form. Serve immediately.