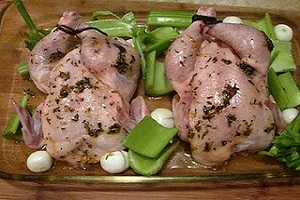 Ingredients (Serves 2)
2 cornish game hens
2 tbsp. maple syrup
2 tbsp. vegetable oil
juice of 1 orange
1 tsp. herbes de provence
1/4 tsp. kosher salt
black pepper
celery and onions
Rinse hens and place in a baking dish. Add remaining ingredients to a saucepan and bring to a low bowl.
Boil for 5 minutes or until glaze has thickened.
Pour glaze over chicken. Add chopped celery and onions around the chickens.
Roast in an oven preheated to 350 for 35-45 minutes or until chicken is cooked through.