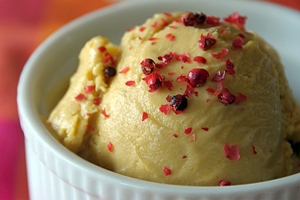 Ingredients
1 can of organic coconut milk
1/2 cup plus 2 tablespoons pure maple syrup
3 tablespoons crushed pink peppercorns, divided (I used a mortar and pestle to crush the peppercorns)
4 egg yolks, preferably organic and free-range
1 pinch sea salt
1 teaspoon vanilla extract


Method
Bring coconut milk and maple syrup to a boil in a pot on the stove. Add 2 tablespoons of the peppercorns and allow to infuse for several hours.
Heat the coconut milk mixture over medium heat.
In a large bowl, whisk egg yolks with salt and the additional 2 tablespoons of maple syrup.
Add about 1/2 cup of the hot coconut milk mixture to the egg yolk mixture. Whisk well.
Pour the egg yolk mixture into the coconut mixture and cook over medium heat, stirring constantly with a wooden spoon, until the custard thickens and coats the back of the spoon (this should take about 5 minutes). Do not allow the custard to boil. Add the vanilla, stir to combine, and remove from the heat.
Push the custard through a fine mesh strainer and discard the peppercorns. Chill the custard in an ice bath or cover and chill in the refrigerator for at least 3 hours or overnight.
Pour the cooled custard into your ice cream maker and proceed according to the manufacturer's instructions.
Serve with additional crushed pink peppercorns sprinkled over the ice cream.