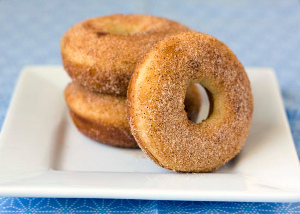 Ingredients (Yield: 6 donuts)
1 cup all-purpose flour
3/4 teaspoon baking powder
3/4 teaspoon baking soda
pinch of salt
1 egg (lightly beaten)
1 6 oz container of non fat organic vanilla bean yogurt
1 tablespoon canola oil
2 teaspoons lemon juice
2 1/2 tablespoons real maple syrup
1 1/2 teaspoons cinnamon
1/2 cup sugar
2 tablespoons butter (melted)


Method
Preheat the oven to 400 degrees. Toss the cinnamon and sugar together in a shallow dish and set aside. In a large bowl whisk together all the dry ingredients. In another bowl stir together oil, lemon juice, maple syrup, egg and yogurt.
Make a hole in the center of the dry ingredients and pour the wet ingredients into the hole. Gently fold everything together until combined. The batter will be thick.
Scoop batter into a piping bag or ziploc bag, snip a bottom corner with scissors, and squeeze out the batter evenly into a donut pan.
Bake for 10 minutes or until golden brown. Let cool for a few moments and then flip over onto a cooling rack while still warm.
Use a pastry brush the melted butter over your donuts and then dip each donut in the cinnamon sugar mixture to coat. Serve immediately after coating with cinnamon sugar mixture for best texture.
Recipe Rundown
Taste: These donuts have a lovely warm sweetness thanks to the cinnamon and maple, unlike some donuts (cough, Krispy Kreme, cough) that just taste sickly sweet.
Texture: Despite being baked from a batter, these donuts still manage to be light and fluffy with small, airy holes.
Ease: VERY simple, much more simple than even the first step of any yeast-based donut recipe that requires deep frying.
Appearance: Who doesn't love food that is geometrically perfect and sparkling with sugar?
Pros: Way easier, healthier, and just as tasty as fried donuts.
Cons: They are best eaten the day they are baked, so no leftovers. Also, I would have liked the maple flavor to be stronger.
Would I make this again? I've already made these donuts twice!