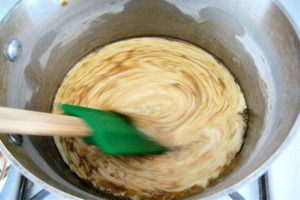 Method
Melt the maple sugar, butter, and maple syrup together in a medium saucepan over medium heat.
Once the sugar is dissolved and the butter is melted, increase the heat to medium-high and bring the mixture to a boil. Cook for 4 minutes without stirring.
Remove the pot from the heat and stir in the cream (be careful; it may sputter a bit.) Stir in the salt. Pour into a storage container and let cool, then refrigerate.
Amy's comments:There's a few things this sauce has going for it: (a) it keeps pretty much forever in the fridge (though we're finding it doesn't last long in our house); (b) it's great, of course, spooned over ice cream (we've been having it over apple pie bars with vanilla ice cream!) but is also pretty terrific stirred into coffee, hot chocolate, or even in small quantities into plain yogurt; and (c) it's a breeze to make. I don't always have a perfect success rate with caramel-type concoctions, but this recipe is easy-peasy and really, really delicious — I love the way the maple gives the sweet butterscotch a bit more depth of flavor.