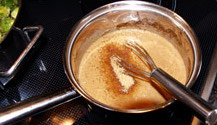 Ingredients
3 oz Bacon
1 minced shallot
2 Tbs apple cider vinegar
1 tbs brown sugar
1/4 cup + 2 Tbs maple syrup
1/4 cup bacon drippings
1/4 cup extra virgin olive oil
Salt to taste
Method
Pan fry bacon until crispy, remove bacon from pan and pour drippings into a heat safe measuring cup. Reserve enough bacon drippings in the pan to cook shallots.
Add shallots to the pan previously used to cook the bacon and cook over medium heat until translucent.
In a food processor or blender, combine shallots, vinegar, maple syrup, and brown sugar.
Turn the food processor/blender on high speed and blend till ingredients are incorporated.
Combine olive oil and bacon drippings (be careful, drippings will still be hot).
SLOWLY drizzle oil/drippings mixture into your food processor. It should take 90-120 seconds to add the entire amount.
While food processor/blender is still running, add 2/3 of the cooked bacon, save the rest for garnishing your salad.
Stop food processor/blender and salt to taste.