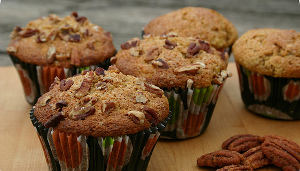 Ingredients
1/2 cup maple syrup
2 eggs
2 ripe bananas, mashed
3 tbsp low fat milk
1 3/4 cups whole wheat pastry flour
1/2 cup almond flour
1 tsp baking soda
1/2 tsp baking powder
1/4 tsp salt
1/2 cup chopped pecans (optional)
Raw sugar


Method
Preheat oven to 375 degrees. Line a jumbo muffin pan with 6 liners or grease muffins tins.
In a large bowl, mix the melted butter, maple syrup, eggs, banana and milk. In a separate bowl, whisk together the flours, baking soda, baking powder and salt. Add the flour mixture to the wet ingredients and stir just until combined. Fold in the pecans.
Fill muffin liners to top. Sprinkle with more pecans and raw sugar. Bake for 22-25 minutes.