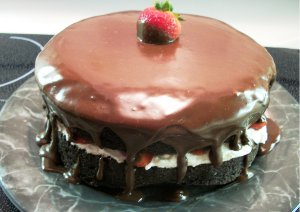 Ingredients
1 1/2 cups of unbleached flour
2 teaspoons of baking soda
2 teaspoons of baking powder
1/4 teaspoon of salt
1 1/2 cups of white sugar
1 cup of water
4 squares semi-sweet chocolate, chopped
2 teaspoons of vanilla bean paste
2 large eggs
1 stick of butter
1/3 cup of pure maple syrup
Filling
1/2 to a full half pint of whipping cream (amount depends on how thick you want the cream filling to be in the center of the cake. For the cake shown, 1/2 of a half pint was used)
1/2 to 1 teaspoon of white sugar (use a full teaspoon if you use the full half pint of whipping cream)
Fresh strawberries, washed and sliced.
Chocolate Topping
3 squares of semi-sweet chocolate
2 tablespoons of butter
1 1/2 cups of sifted icing sugar
4 tablespoons of cold milk
Method
Cake
Sift all the dry ingredients (except the sugar) together in a bowl and set aside.
In a small pot add 1 cup of water and your sugar. Bring to a boil while stirring until sugar is dissolved.
Once at a boil, remove from heat and add the maple syrup.
Pour into a large bowl, add the chopped chocolate and butter and stir until all the chocolate is melted.
Stir in vanilla bean paste, then beat in eggs and add the dry ingredients.
Pour batter in two 8 inch round prepared cake pans.
Bake at 350 for 20-25 minutes or until tester comes out clean from center of cakes.
Filling
Pour whipping cream into your mixing bowl, add the sugar and beat on high until thickened.
Spread over top of the bottom layer of your cake.
Placed the sliced strawberries over the whipped cream.
Add your top layer of cake.
Chocolate Topping
Melt chocolate and butter together in microwave for approximately 2 minutes.
Remove from microwave and stir together until chocolate is completely melted.
Add the icing sugar and milk and beat until smooth.
Pour over the top of your cake and let excess drip/drizzle over the sides.
Garnish the top of the cake with a chocolate dipped strawberry.
Refrigerate.
Remove from fridge approximately 20-30 minutes before serving. Refrigerate any leftovers.