Good Things Come To Those Who Shop at MapleSyrupWorld!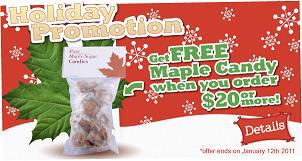 Spent $20 or more and we will automatically add a small pack of pure maple syrup candies with you order, free!!!
You don't have to do anything as long as you spend for $20 or more excluding shipping and taxes(where applicable). We will include the pure maple syrup candies with your order.
Please note that this promotion can not be combined with other promotions like Free Shiping.
Happy shopping!
The promotion ends on January 12th 2011.