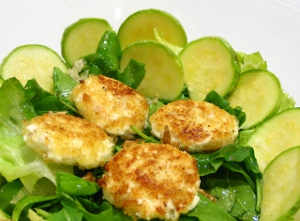 Ingredients
For the Goat Cheese:
Goat Cheese
Egg White
Fresh Bread Crumbs mixed with black pepper
The Salad:
Rocket
Big lettuce leaves
Walnuts
Fresh Sliced Zucchini
The Dressing:
2 Parts Maple Syrup
1 Part Balsamic Vinegar
1.5 Part Lemon
Salt and Pepper
Garlic (optional)
Olive oil
Method
Slice up the Goat Cheese roll (each slice must be 1-1.5 cm in thickness)
Lightly press them with your hands and dip them in egg white first, then bread crumbs. Press them again to make sure the bread crumbs don't fall off.
In a non stick pan, fry them with a tiny bit of chili oil for flavor or olive oil and butter. Oil should be about 1 tsp only as it doesn't need more. If you don't want to fry them, then they can be baked in the oven until Golden brown, just like the pictures above.
Mix the dressing and drizzle just a little over the greens, then place the Warm Goat cheese on top.