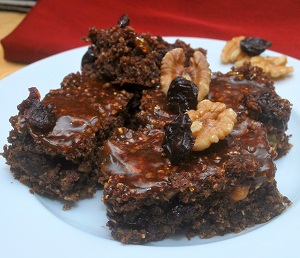 Ingredients
1 cup 7 Whole Grain Gluten Free Instant Cereal
¾ cup Brown Rice Flour
¼ cup unsweetened cocoa
1 tsp cinnamon
¼ tsp salt
¼ cup honey
¼ cup maple syrup
1/3 cup unsweetened applesauce
¼ cup canola oil
1 egg
1 egg white
¾ cup dried cherries
½ cup chopped walnuts
¼ cup fruit only apricot preserves – melted
Method
Preheat oven to 350 degrees.
Mix the cereal, flour, cocoa, cinnamon and salt.
In another bowl, mix the honey, maple syrup, applesauce, oil, egg, egg white until combined. Stir in the dry mixture until well combined. Add the cherries and nuts.
Spray an 8" square baking pan with non-stick spray and spread mixture in the pan. Bake for 30 – 35 minutes.
Heat the preserves in the microwave for 30 seconds to 1 minute (depending on your microwave oven power), stir, then brush over the cooked bars while warm. Let cook then ENJOY!