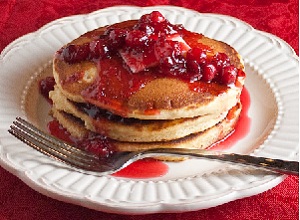 Ingredients (Makes 10-12 pancakes)
Cranberry-Orange Syrup
1 1/2 cups fresh or frozen cranberries
3/4 cup of sugar
3/4 cup orange juice
1 tsp of orange zest
1/3 cup maple syrup
Pancakes
2 cups all purpose flour
2 tablespoons sugar
2 teaspoons baking powder
1 teaspoon baking soda
1/2 teaspoon salt
2 cups light egg nog
2 large eggs
1/4 cup canola
Method
Put all the syrup ingredients into a sauce an and mix well.
Cook over medium heat and bring to a boil.
Simmer 5-10 minutes until the cranberries pop. Stir while simmering.
Remove from heat, set syrup aside to cool slightly and prepare pancakes.
For pancakes, mix dry ingredients together in medium bowl.
Add all wet ingredients (eggs, egg nog, and oil) to a separate bowl and stir just until blended.
Add the wet ingredient to the dry ingredients just until combined. Do not over mix, batter will be slightly lumpy.
Lightly coat skillet with oil. Heat to medium low (I do one notch below medium or you pancakes will burn).
Drop 1/4 cup of batter onto heated skillet. Use the back side of a spoon to help even out the batter.
Cook on first side until bubbles begin to form on surface and underside is golden, about 2 minutes.
Flip over and cook another 2 minutes until golden brown and center springs back when lightly touched.
Serve warm with butter and cranberry orange syrup. Makes 10-12 pancakes.