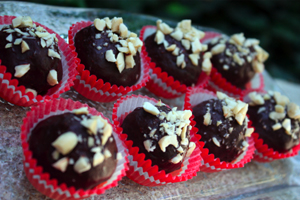 Ingredients
1 cup cashews + 4-5 tbsp chopped
1 cup pecans
2 tbsp cacao nibs (can omit if you don't have them on hand)
1/4 cup oats
1 tbsp agave nectar*
1 tbsp maple syrup*
1/2 tsp vanilla extract
1/4 tsp sea salt
1/2 tsp pumpkin pie spice
3/4 tsp ground cinnamon
1 bar of your favorite dark chocolate
*If you don't have agave nectar, you could omit this, and double the maple syrup.
Method
Put the cashews, pecans, and cacao nibs into your food processor and process until fine.
Add in the oats, agave nectar, maple syrup, vanilla extract, sea salt and spices and process until crumbly. You want it to be sticky enough so that it will stick together into balls, but not so sticky that it resembles nut butter. (To check, take out a handful and squeeze it in your palm to see if it sticks. If it doesn't put it back, and process a little longer.)
Once the mixture is processed to the right consistency, transfer it to a large bowl.
Take golf ball size handfuls of the mixture and squeeze it, then turn it and squeeze it again, and keep doing this until you are able to mold it into a tight ball. The end result will be smaller than a golf ball, since it's packed together. It will be more like a gum ball size.
Continue this process, forming 14-15 balls of the mixture, lining them up on a piece of parchment paper.
Chop dark chocolate bar into small chunks.
Using either a double boiler method or microwave method, melt the chocolate.
Dip the truffles in the melted chocolate, roll them around until they are fully coated, and then set them back on the parchment paper.
Sprinkle with chopped cashews.
Let them set overnight or place them in the frig for 30 minutes to speed up the process.
Makes about 14-15 truffles.