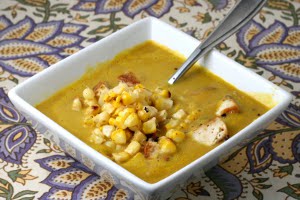 Ingredients
1 carton of Curried Red Lentil Soup (1 cup each)
1 package light firm tofu, pressed, drained and sliced lengthwise
1 Tbsp tahini (sesame paste)
1 Tbsp real maple syrup
2 tsp tamari
2-3 Tbsp water
Cooking spray
4 ears fresh corn
Coarse sea salt and fresh ground pepper


Method
Mix the tahini, maple syrup and tamari in a small bowl. Slowly add in water until you get the desired consistency. Add the tofu and turn to coat. Marinate for 12 to 24 hours.
Preheat grill over medium high heat. Spray the tofu and corn on all sides with cooking spray. Season the corn with salt and pepper then add corn and the tofu to grill. Grill each side of tofu 5 to 7 minutes or to desired doneness, turn corn when tofu is turned. Cool tofu and cube, cool corn and cut off kernels off cob.
Pour soup evenly into four bowls. Microwave to package directions (or on high until heated through). To each bowl add the kernels of one corn cob and 1/4 of the grilled tofu.