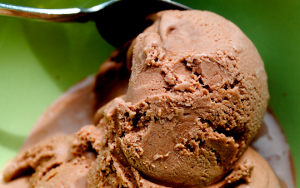 Ingredients (Makes approximately 4 cups of delicious ice cream.)
2 cans of cold full fat coconut milk
1/2 cup peanut butter
1/3 cup raw cocoa powder
1/3 cup maple syrup
2 tsp vanilla


Method
Add all of the ingredients to your blender or food processor and mix until well blended.
You could chill this mixture if time permits (I didn't have time but my coconut milk and maple syrup were in the fridge beforehand).
Pour into your ice cream maker and follow your ice cream maker's instructions.