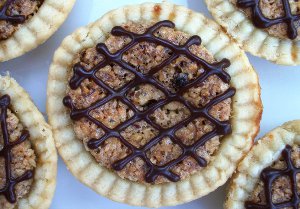 Ingredients
Filling
2 large eggs, lighten beaten
1 cup of Golden Corn Syrup (same as Karo Corn Syrup in the U.S.)
1 cup of Maple Syrup
1/4 cup of melted butter
1 cup of white sugar
2 teaspoons of vanilla bean paste
1 1/2 cups of finely chopped hazelnuts (measure after chopping)
Pastry for Tart Shells
4 cups of unbleached flour
2 teaspoons of salt
1 1/2 cups of shortening
8 tablespoons of ice-cold water
3 tablespoons of white vinegar
Chocolate Drizzle
1 square of unsweetened chocolate
1 tablespoon of butter
3/4 cup of confectioner's sugar
2 tablespoons of cold milk
Method
For the Filling
Add all ingredients in the order listed and mix well between each addition. Set aside while you prepare your tart shells.
Pastry for Tart Shells
Mix flour and salt together in a large bowl.
Using a pastry blender, cut in your shortening until mixture is *pea* like.
Add 3 tablespoons of cold water alternating with your 3 tablespoons of vinegar mixing with a fork.
Gradually add more water until pastry is able to form a ball.
Roll out onto lightly floured surface and using a large round cutter cut out 24 tart shells.
Place cut shells into non-stick muffin tins and fill 2/3rds full with hazelnut/maple filling.
Bake at 350° for 20 to 25 minutes until pastry if golden brown
Chocolate Drizzle
Melt butter and chocolate together in microwave (about 1-1 1/2 minutes).
Remove from microwave and stir together until chocolate is completely melted.
Gradually add the confectioner's sugar and mix well.
Add 2 tablespoons of cold milk and stir until chocolate is completely smooth.
Pour into a piping bag with a number 1 piping tip attached.
Pipe lines criss-cross over the top of the cooled tarts .