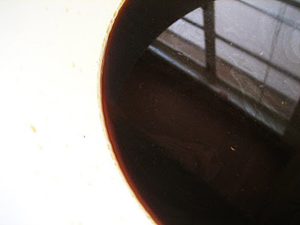 Ingredients
6 oz peeled chopped horseradish root (or one 4 oz jar prepared horseradish--no mayo!)
2 medium red onions
1/4 cup minced garlic
1/4 cup minced jalapeno
2T crushed black pepper
3 cups water
4 cups sweet balsamic vinegar
1/2 cup molasses
2 cups maple syrup
12 whole cloves
2T sea salt
zest of one lemon
3 juniper berries, crushed
Method
Combine all the ingredients in a large one gallon pot and simmer one hour on low heat. It seems like it should be harder to make Worcestershire sauce huh?
I use a fine cotton cloth to strain the sauce placed over another strainer.
Pour the sauce into the strainer.
Drain. It takes about 20 minutes to strain.
Transfer to pint jars. This recipe yields 4 pints or two quarts. Feel free to make more or less as needed. Put sealed jars in a boiling water bath caner and process 10 minutes. Allow to cool on a kitchen towel lined counter top for 12 hours. Sauce is best after one month or longer to mature. I've seen it done where the sauce is put in a wooden barrel and aged like wine. I don't do that...I don't have the right facility. I suppose it could be done that way though...if you want to get all technical-fancy. I just know, even like it is...it's a pretty tasty sauce.