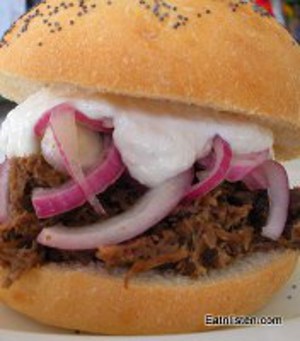 Ingredients
7-8 pounds chuck roast
1/4 cup garlic powder
2 Tbsp kosher salt
1 Tbsp fresh ground black pepper
3-4 Bottles or cans of beer
1 stick unsalted butter melted
Salt, pepper, and garlic powder to taste
Your favorite sandwich buns
Sweet n' Sour Red Onions
1 medium red onion, sliced thin
1 1/2 tsp white vinegar
1 1/2 tsp cider vinegar
1 Tbsp maple syrup
Kosher salt and fresh ground pepper to taste
Horsey Sauce
1 cup sour cream
3 Tbsp prepared white horseradish
2-3 dashes Worcestershire Sauce
Method
Place the chuck roast in a slow cooker and sprinkle with the garlic powder, salt and pepper. Pour in enough beer to just cover all of the meat, cover the slow cooker, and set the heat on "high". Cook for 6-8 hours, until the meat falls apart easily.
Remove all of the meat from the slow cooker and allow it to cool completely. Pour out the remaining cooking liquid and reserve for later use.
Pull apart the meat, by hand, into small shredded pieces discarding any large pieces of fat.
Return the shredded meat to the slow cooker with the heat set to "low", add enough liquid to moisten slightly (about 1 cup), and stir in the melted butter until well mixed. Adjust the seasoning with more garlic powder, salt and pepper if necessary. Reheat completely before serving.
If preparing ahead, refrigerate the the Beer Buttered Beef for up to 2 days, and reheat comletely to serve. If necessary, use additional reserved cooking liquid to keep the beef moist while serving.
Sweet n' Sour Red Onions
Mix all of the ingredients in a bowl. Allow to marinate while the beef is cooking, stirring occasionally.
Can be prepared up to 2 days ahead and stored in the refrigerator. Mix well before serving.
Horsey Sauce
Mix all of the ingredients in a bowl until incorporated completely, just before serving the sandwiches.