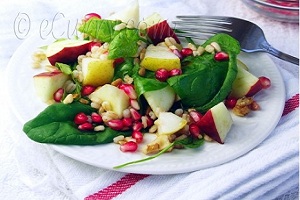 Ingredients
baby spinach leaves
barley ( I used pearl barley)
pomegranate
apple
pear
salted and roasted sunflower seeds/or pumpkin seeds
lightly toasted walnut/pecans
Dressing
infused olive oil
maple syrup
wine vinegar
red pepper flakes
pomegranate molasses
a pinch of salt
Method
Cook the barley. I usually use twice the amount of water to the barley and boil them till they are softened and there is no more water left. (salt + barley + water). Set aside.
Take out the arils of the pomegranate. Chop the fruits. Wash the baby spinach (I used the leaves from my yard, so I had to give them a good rinse to get the dirt out).
In a bowl combine the leaves, fruits, nuts, and the cooked barley.
Whisk all the ingredients for the dressing; drizzle over the salad and toss well.