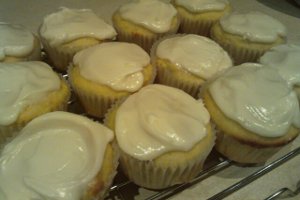 Ingredients
Batter
4/5 cup butter, softened (or 185 grams)
1 cup superfine sugar (I used regular)
3 eggs
2 1/2 cups self-raising flour
1/2 teaspoon baking soda
3/4 cup sour cream (I used half sour cream, half milk)
2 tablespoons maple syrup
3 very ripe bananas, mashed
Icing
2 3/4 oz light cream cheese, softened
1/5 cup butter, softened (or 50 grams)
1 1/2 tablespoons honey
2 cups icing sugar
Method
Preheat oven to 350 degrees F. Line 24 standard muffin holes with paper cases.
Beat the butter and sugar in a large bowl using electric beaters for 5-6 minutes, or until light and fluffy. Add the eggs, one at a time, beating well after each addition.
Sift the flour and baking soda together. Add the sour cream and maple syrup to the mashed banana and mix well. Fold the flour mixture alternately with the banana mixture in the butter mixture until well combined.
Divide the mixture evenly among the cases. Bake for 15 minutes, or until a skewer comes out clean. Transfer to wire rack to cool.
To make icing, place the cream cheese and butter in a small bowl and beat until smooth. Add the honey and icing sugar and beat until smooth and well combined. Decorate each cake generously with icing.