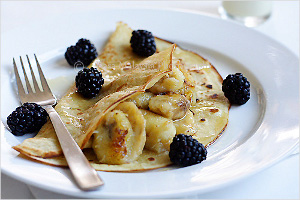 Ingredients (Serves 1)
Pancakes
1 1/2 cup all-purpose flour
1/4 cup sugar
1 cup milk (or water)
2 eggs
Butter for greasing
Berries of your choice
Banana Filling
6 bananas @ 6 oz. each (peeled and sliced)
4 tablespoons melted butter
Method
Sift flour into a bowl and add eggs, milk (or water), and sugar. Mix and beat well and set aside.
Heat melted butter in a pan, add the bananas, toss until coated, and cook over medium heat until the bananas start to soften and brown.
Make sure not to overcook the bananas. Dish out and set aside.
Melt a little butter in a non-stick frying pan and pour the pancake mixture into the pan and cook over medium heat until the underside is golden.
Turn the pancake over and cook the other side. Transfer to a plate and fill the pancake with the banana.
Fold the pancake over to enclose and top it with some berries. Drizzle maple syrup on the pancake before serving.