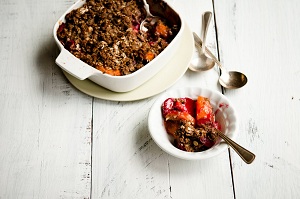 Ingredients
Filling
1 1/2 - 2 lb. apricots and plums, combined, pitted and sliced
1/4 cup packed light brown sugar
4 Tbspn corn starch
Crisp Topping
1 cup rolled oats
1/4 cup + 2 Tbspn buckwheat flour
1/2 cup lightly packed light brown sugar
1/2 tspn baking powder
3/4 tspn salt
1 tspn cinnamon
1/3 cup butter, cold and cut into small pieces
1/3 cup 2% Greek yogurt
Stir-in Walnuts
1/2 cup + 1 Tbspn dark amber maple syrup
1 1/2 cup walnuts (~150 gr), toasted for 10 minutes in a 350 degree oven and then chopped coarsely
large pinch of salt
Froyo Base
3 cups 2% Greek yogurt
3/4 cup dark amber maple syrup
Method
Preheat oven to 400 degrees F.
In a bowl, toss and combine all of the filling ingredients. Spoon into an 8x8" baking dish. Set aside and make the crisp topping.
Combine all of the ingredients except the butter and yogurt in a bowl.
Using a pastry cutter or fork, cut the butter and yogurt into the flour mixture until the butter is the size of small peas and evenly distributed throughout the mixture. Do not overmix.
Spoon the topping over the fruit in the baking dish, patting it down if you need to pile more on.
Bake for ~20-30 minutes, until the top is brown and the insides are bubbly. Remove and let cool briefly before serving.
In a small saucepan, heat the maple syrup just until it comes to a boil.
Add the chopped walnuts and salt and return to a boil. Stir and cook for 10 seconds, then remove from heat and let cool completely.
Whisk together the yogurt and maple syrup. Chill thoroughly in the refrigerator.
Freeze according to your ice cream maker's directions. Fold in the prepared maple walnuts in the last few minutes of freezing.
If needed, put frozen yogurt in freezer to continue freezing until about the consistency of soft serve, about 1-2 hours. Serve with apricot-plum crisp.