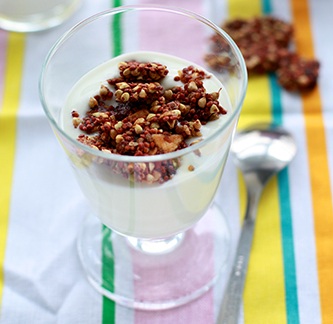 Ingredients
20 dried pitted dates (~175 grams)
125 mL filtered water
100 grams red quinoa, soaked for 40 minutes and sprouted for 24 hours, rinsing every 8 hours
100 grams buckwheat groats, soaked for 20 minutes and sprouted for 24 hours, rinsing every 8 hours
15 grams dried apple slices, roughly chopped
30 grams dried cranberries, roughly chopped
30 mL maple syrup
1/4 tsp cinnamon
Method
Preheat the oven to 200°F.
Prepare a rimmed baking sheet by placing a sheet of parchment at the bottom. Lightly grease the parchment and set aside the baking sheet for later.
In a small saucepan on low heat, slowly warm the dates and water until the dates break down and you obtain a paste. Purée the date paste in the food processor. Set aside to cool.
In a medium bowl, combine the sprouted quinoa, sprouted buckwheat, apple, cranberries, maple syrup, and cinnamon. Stir it until the ingredients together until they are evenly distributed throughout the mixture.
Add the date paste to the granola mixture, and stir until all the ingredients are evenly coated.
Scoop the granola mixture onto the baking sheet and press it out evenly so that it is about 1/4 to 1/2 inch thick. Be sure to compact the granola well so the mixture is firm, and not loose.
Bake the granola for a few hours (about 2 to 2.5 hours) until it is dry enough to crumble into clusters. I chose to flip the granola after about 1 hour so that the bottom dries as well as the top (To flip, top the granola with another sheet of parchment and a baking sheet, then boldly flip!).
When the granola has sufficiently dried, place the baking sheet on a wire rack to cool completely, then crumble the dried granola into clusters. Store in an airtight container.