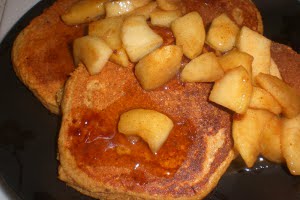 Ingredients (Serves 1)
Pancakes
½ cup wheat blend pancake mix (dry)
¼ cup light vanilla yogurt
¼ cup naturally sweetened apple sauce
1 egg white
dash of cinnamon
1-2 tbsp water
Maple Cinnamon Sauteed Apples
1 small apple, peeled and chopped (I used an Empire)
1 tbsp Smart Balance spread or similar product, look for Trans Fat Free
2 tbsp maple syrup
generous sprinkle of cinnamon
1-2 tbsp juice/cider, preferably apple (I used blueberry pomegranate juice)
Method
First start by melting butter spread into a small frying pan on medium-high heat. Add the apple slices and watch carefully, don't let the apples burn.
While the apples are softening, you can prepare the pancake batter. It's really simple, just add the dry mix, yogurt, applesauce, and egg white to a medium bowl. Mix with a fork. Add the water as needed to thin out this extra thick batter. Add a dash of cinnamon and let that sit pretty while the apples cook... you are watching those apples right??
The apples should be getting a little softer. Reduce the heat to medium-low and add the maple syrup and cinnamon. If the heat is too high, the sugar in the maple syrup will burn. If you know me well, you know I love burnt food but burnt sugar is just gross, so watch that pan and STIR STIR STIR. If the apples and syrup start to get too thick, this is where the juice comes in. Like I said, I used blueberry pomegranate juice because that is what's in my fridge, but apple cider or apple juice would be best if you have it. Add just a tbsp at a time and mix. 2 tbsp should be plenty to thin out the sauce.
Now, keep those apples on low heat and cook your pancakes. The batter will yield about 4 4-inch cakes. Heat a frying pan with a little cooking spray or butter spread and spoon the batter into the pan. Flip the cakes when the pancakes start to bubble, you'll know when to flip because they'll hold their shape when you slide the spatula under 'em.
The maple apple topping should be ready when the pancakes are done. Just plate your cakes and pour the apples on top. Enjoy your breakfast and your lazy Sunday!