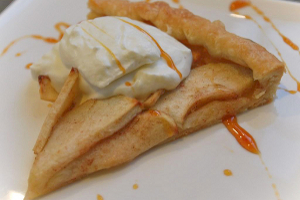 Ingredients
Apple Tart
1 unbaked pie crust
3 Granny Smith apples
1/4 cup sugar
3 tablespoons butter, melted
1 tablespoon maple syrup
1/4 teaspoon cinnamon
1/2 teaspoon lemon zest
3 tablespoons lemon juice
pinch of salt
Maple Whipped Cream
1 cup heavy cream
3 ounces goat cheese, at room temperature
3 tablespoons maple syrup
Apple Cayenne Syrup
2 cups apple juice
dash of cayenne pepper
1 tablespoon maple syrup
Method
Apple Tart
Preheat the oven to 400 degrees F.
Peel and core the apples, then slice into about 1/4 inch slices. Toss the apples with the sugar, cinnamon, lemon zest, lemon juice, maple syrup and salt, then set aside.
Roll out the unbaked pie crust to about 14 inch circle, then carefully place the dough inside a tart pan without stretching the dough. Overlap the apples in a fan pattern around the tart pan. Fold over any excess pastry, removing some if there is to much excess just so there is a small lip at the edge of the tart. Place the tart in the oven for 30 minutes until the edges are lightly browned.
While the tart is baking, make the maple whipped cream and apple cayenne reduction.
After 30 minutes, remove the tart from the oven and allow to cool on a wire rack.
Maple Whipped Cream
In a large mixing bowl, cream the goat cheese with a hand mixer. Add the cream and maple syrup, then use the hand mixer at low speed until the mixture starts to get frothy then gradually increase speed until the cream slightly bends over at the top when you remove the whisks, this is called soft peaks.
Apple Cayenne Syrup
Add all ingredients into a saucepan over medium high heat and simmer until the mixture reduces into a light syrup, about 20 minutes.