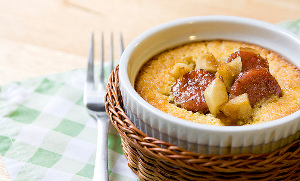 Ingredients
For the cornbread crust
½ cup cornmeal
½ unbleached all purpose flour
1½ tsp baking powder
½ tsp salt
2 Tbs cold unsalted butter
½ cup 2% or whole milk
¼ cup maple syrup
For the filling
½ lb Andouille sausage
1 large Granny Smith Apple
½ cup finely chopped shallots
4 Tbs unsalted butter
¼ cup maple syrup
⅓ cup apple cider vinegar
Tools
10″-ish saute pan
4 4″ to 5″ ramekins
Method
Step One: Read the instructions all the way through first.
Preparation
Measure out all the dry ingredients for the cornbread crust into a 2 quart-ish bowl.
Cut 2 Tbs cold butter into the dry ingredients with a pastry cutter until the mixture resembles coarse crumbs. Set this aside. We'll add the wet ingredients to this right before we are ready to assemble the pot pies.
Slice andouille into ½" rounds
Cube apple into ½" pieces
Dice shallots
Measure out all the wet ingredients for both the crust and the filling so they are ready to add when it's time.
Preheat oven to 375° F
Let's kick this pig!
Place dry, empty saute pan onto stove over high heat and let it get hot.
Add the andouille and brown it just until it gets a little bit of color. The sausage is going to go into the oven later, so you don't want to overdo it here.
Once the sausage is browned, Turn the burner off completely, remove the sausage from the pan and set it aside.
Add the butter to the pan.
Once the butter is melted add the shallots and turn the burner on, set to very low heat. Important note: Shallots turn extremely bitter if they are allowed to brown. This will RUIN your dish, so for the love of pete, keep an eye on those shallots!
Sweat the shallots until they become translucent and soften in texture.
Add the apple cider vinegar and turn the burner up to medium heat, scraping the sides and bottom of the pan to incorporate all the tasty bits left over from the sausage.
Stir in the maple syrup.
Reduce the sauce for a minute or two on medium heat, stirring frequently to keep the shallots safe. The sauce will still be fairly thin.
Add the apples and continue to reduce the mixture. You may turn the heat up to medium high at this point for a minute or so to expedite the reduction, but again, don't let those shallots brown!
When the sauce has thickened a bit more, turn off the burner and return the andouille to the pan.
Back to the cornbread crust
Add the milk and maple syrup to the dry ingredients and stir until just moistened.
Measure ⅓ cup of the cornbread batter into the bottom of each ramekin.
Spoon the sausage apple filling into the ramekins, kind of piling it in the middle so the cornbread has room to bake up around it.
Bake for 17-20 minutes or until the cornbread is golden brown.