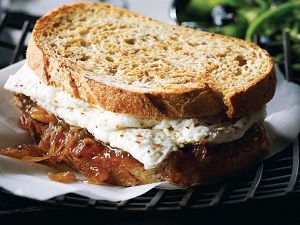 Ingredients
2 tbsp + 1 tsp extra-virgin olive oil
3 red onions, sliced into ¼-inch rings and separated
1 1/4 tsp sea salt
8 egg whites (2 egg whites per sandwich)
1 tsp piment d'Espelette
Freshly cracked black pepper, to taste
1 tbsp aged balsamic vinegar, minimum 7 years old
1 tbsp maple syrup
4 cups baby arugula
1 cup fresh blueberries
8 slices flax-seed or whole-wheat bread, sliced ½-inch thick
Rustic Low-Sugar Jam
Carmelized Onions
Extras
Egg White Omelets
Heat a medium nonstick pan over medium heat. Add a teaspoon of extra-virgin olive oil, and use a paper towel to lightly grease the pan and remove the excess oil.
Beat 2 egg whites with ¼ teaspoon of piment d'Espelette, ¼ teaspoon of sea salt, and some freshly cracked black pepper. Pour the egg whites into the pan, and cook for about 3 minutes, until opaque and slightly firm.
Flip over the egg white omelet, and cook for an additional minute or two. Repeat with the remaining eggs.
Blueberry & Arugula Salad
In a jar, combine 1 tablespoon of extra-virgin olive oil, aged balsamic, and maple syrup. Close the jar tightly and shake vigorously to emulsify.
In a large bowl, toss the arugula and blueberries with the dressing.
Rustic Low-Sugar Jam
¼ cup water
1 pound fresh fruit, quartered
¼ cup raw sugar
1 tbsp grated lemon zest
In a medium saucepan, bring the water to a simmer over medium heat.Once the water is simmering, turn the heat down to low and add the fruit, sugar, and lemon zest.
Stir and simmer uncovered for 30 minutes (or up to an hour or more, depending on the type of fruit you used).
Stir often until it's thick and syrupy, but note that this low-sugar jam won't have a jelly-like consistency like store-bought jam; it'll be looser and more rustic.
Method
Heat 1 tablespoon of extra-virgin olive oil in a large nonstick frying pan over medium heat.
Add the onions and ¼ teaspoon of sea salt, and stir to coat evenly. Sauté for 8 minutes.
Then turn the heat down to medium-low and sauté for another 40 minutes, until they're a deep amber color and have reduced to one third their original volume.
Toast the bread and slather one half of each sandwich with a tablespoon of jam and a tablespoon of caramelized onions.
Add an egg white omelet, top with a second slice of toasted bread, and serve with 1 cup of arugula and blueberry salad on the side.